Hikvision ColorVu Review: Colour Night Vision at an affordable price?
When it comes to great quality night time security footage, Hikvision's Darkfighter cameras have long ruled the roost. But with ColorVu, Hikvision are claiming to add full colour to the nighttime mix.
And what's more, rather than holding ColorVu techology to ransom in it's range-topping cameras, Hikvision are launching ColorVu with a 2MP turret available from around £150. They're even making a ColorVu camera available on it's suberb Turbo HD range, designed to keep adoption costs low by running HD cameras on your pre-existing coaxial cable.
So, we're sold on the availability, costs and packaging, but one question remains.
Does ColorVu work?
Let's take a closer look….
Hikvision Demo Truck – Book Your Visit.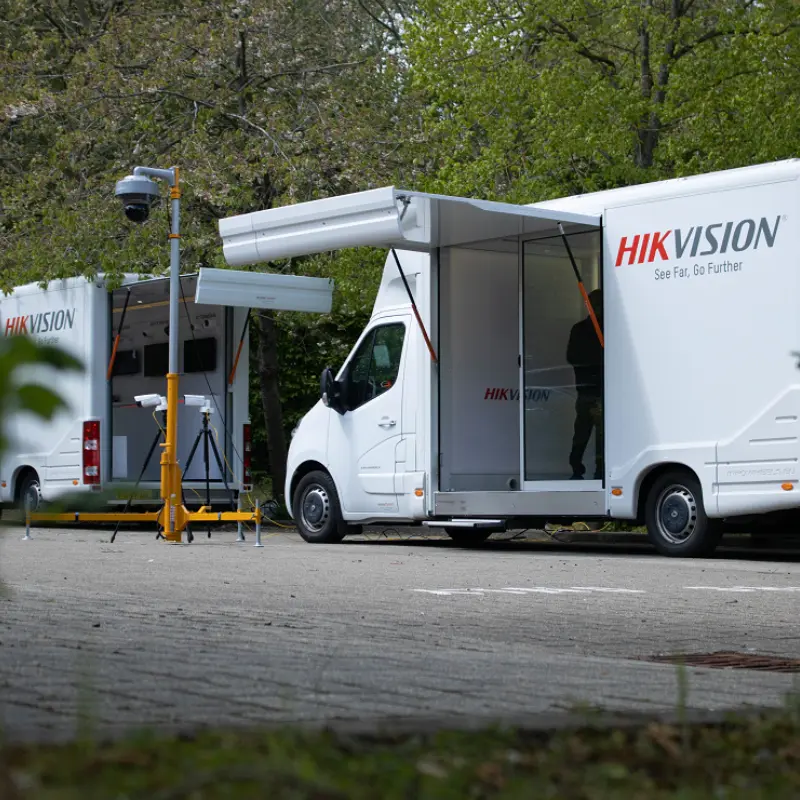 For a free quote fill out the form below.
Hikvision ColorVu real world test
Comparison Test Details:
Standard HD

= Meraki MV71 external dome (gen 1)
Darkfighter

= Hikvision Darkfighter 3mp external bullet
ColorVu

= Hikvision ColorVu 4mp external turret
Test date

= 21/10/2019
Test location =

Sheffield, UK.
Daytime

= 17:00
Nighttime

= 19:00
Tests were run using surrounding ambient lighting only (which can be seen in the images), no floodlights.
We've been a bit delayed in getting our ColorVu up on our test rig due to some truly atrocious weather of late (tell me something new) so we've only had a chance to pull some basic test footage off (see above) as yet.
We'll be running some more in depth tests soon, so follow us on YouTube, Twitter or Facebook to be updated when we post them up.
However, even from our very brief testing, you can certainly tell the difference.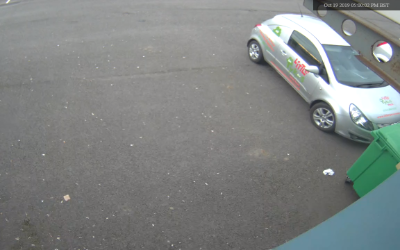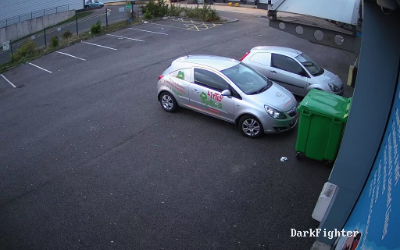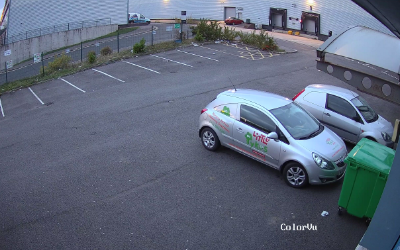 As you would expect, there's very little difference between the cameras during daylight hours. To be fair to the Standard HD camera we had to leave it on a slightly different view because of the job it's currently doing, but you can see enough of the silver van and green bin to see there's very little between them in terms of daytime clarity and image quality. But, of course, it's the night time images we're really interested in.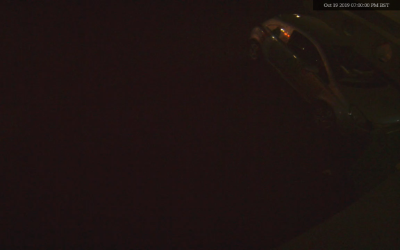 The MV71 is a good camera, but the lack of specialist night vision hardware really shows once the scene is plunged into darkness. The van can be faintly seen, but only just.
Unfortunately studies show that more than 40% of break in's occur at night with the most common hours being between 10pm and 4am.
Without adequate night vision or other illumination, you will be unable to produce any usable footage from a video for authorities.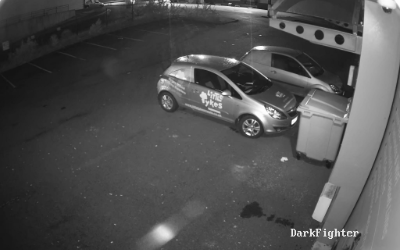 What an amazing difference! That says it all for Hikvision's patented Darkfighter technology, which is enabled via a special chip within the cameras themselves.
The image is Crisp and clear, you can see just about as much in terms of detail as you could during the day.
If you were to have intruders on your site you would be able to make out details such as vehicles and individual features.
However, the only real difference is the lack of colour. Would an individual be wearing a Grey or Green coat?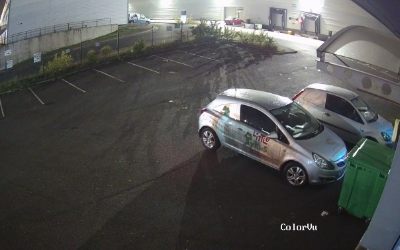 Yes, a bright colour image, even at night! The difference is as clear as, well, day!
It's really impressive how much colour is brought into the final image, with the green and red of the logo on the van, and the greenness of the bin and the shrubs in the background really coming through.
One other amazing thing is how it's creating shadows that aren't really there. By sucking in the available light through it's advanced F1.0 aperture lenses and high-sensitivity sensors the shrubs and van are somehow casting shadows in the pitch dark!
The Results: Night Time Close Up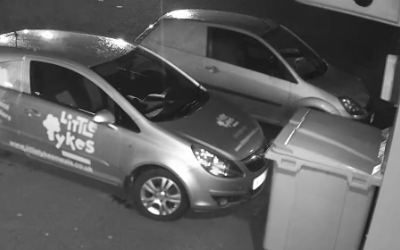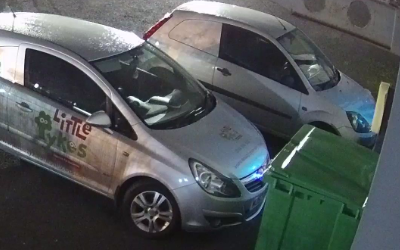 Standard HD: Nothing to see here. Literally.
Darkfighter (Left): Really clear image with lots of definition. Impressive. However, note the high level of reflectiveness from the number plate. This would make vehicle identification for crime reporting very difficult, as would the fact that we can't say with confidence what colour the vehicles are.
ColorVu (Right): Amazingly clear and with colours almost identical from those from the daylight images. Also, there's no glare from the number plate, and if the plate were visible, it would be readable. Equally the colours of the cars and their logos can be clearly seen. Imagine you've caught a person breaking into vehicles in your forecourt. Being able to describe the colours and patterns of their clothing is a far more compelling description for the police and courts than just describing how dark or light their clothing is!
Conclusion: Hikvision are on to a winner!
Admitedly this is a very basic test based on a few snapshots on a clear winter's night, but even from this you can see instantly the advantages that the ColorVu cameras bring.
Greater clarity, less glare and – of course – colours!
It's an amazing thing Hikvision have acheived, really, being able to put this technology into a package that any business can afford, and form factors they're used to.
More about ColorVu
What ColorVu cameras are available to buy now?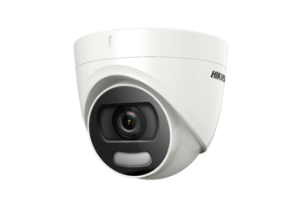 2MP Full Time Colour Turret Camera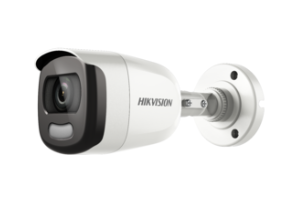 2MP Full Time Colour Bullet Camera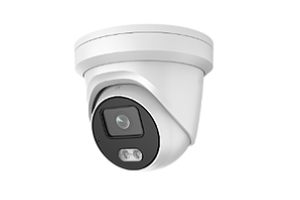 4MP ColorVu Fixed Turret Network Camera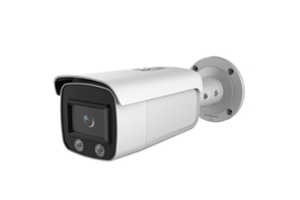 4MP ColorVu Fixed Bullet Network Camera
Jane Furness, Barca Leeds
Very quick to respond to problem when reported- very helpful.
Mark Hamilton, Gooding Group
Good communicative engineer worked away discreetly and kept me informed of progress.
Molecular Dimensions
Brilliant Service, Quick Fixing, Wonderful Customer Service.