The Children's Hospital Charity
Team One2Call are working with The Children's Hospital Charity throughout 2022 and beyond to raise money to help provide the tools and equipment to support young people in critical care throughout the region.
We are taking part in Charity Events hosted by The Children's Hospital Charity, including (but not limited to); charity football tournaments, walks, runs, skydiving and other events. Many members of our team are also working to raise money through independent events for the Charity.
All money raised from any of the events that members of Team One2Call participate in will go directly to The Children's Hospital Charity through our Just Giving pages and directly through the donation pages hosted by the charity.
This is a charity which is close to all of our hearts at One2Call, with multiple members of our team having witnessed first hand the incredible work that The Children's Hospital Charity does to support children throughout the region.
You can find out more about The Childrens Hospital Charity below and you can also see more information about our upcoming events to support the charity and find out about some of the events we have already completed.
Donate to The Children's Hospital Charity
£'s Raised by One2Call to Date About the Charity
Sheffield Children's NHS Foundation Trust is at the heart the Charity. We are working with the charity to come together as one team, raising funds over and above the NHS provision and ultimately enhancing the patient and family experience in the region.
The Children's Hospital Charity support the hospital by funding new facilities and building an environment with children in mind. Our fundraising events will help to raise money for the new Major Trauma Centre, Child Assessment Unit, Cancer and Leukaemia Ward as well as a new Helipad.
You can find more details about the work the charity is doing by visiting the following link: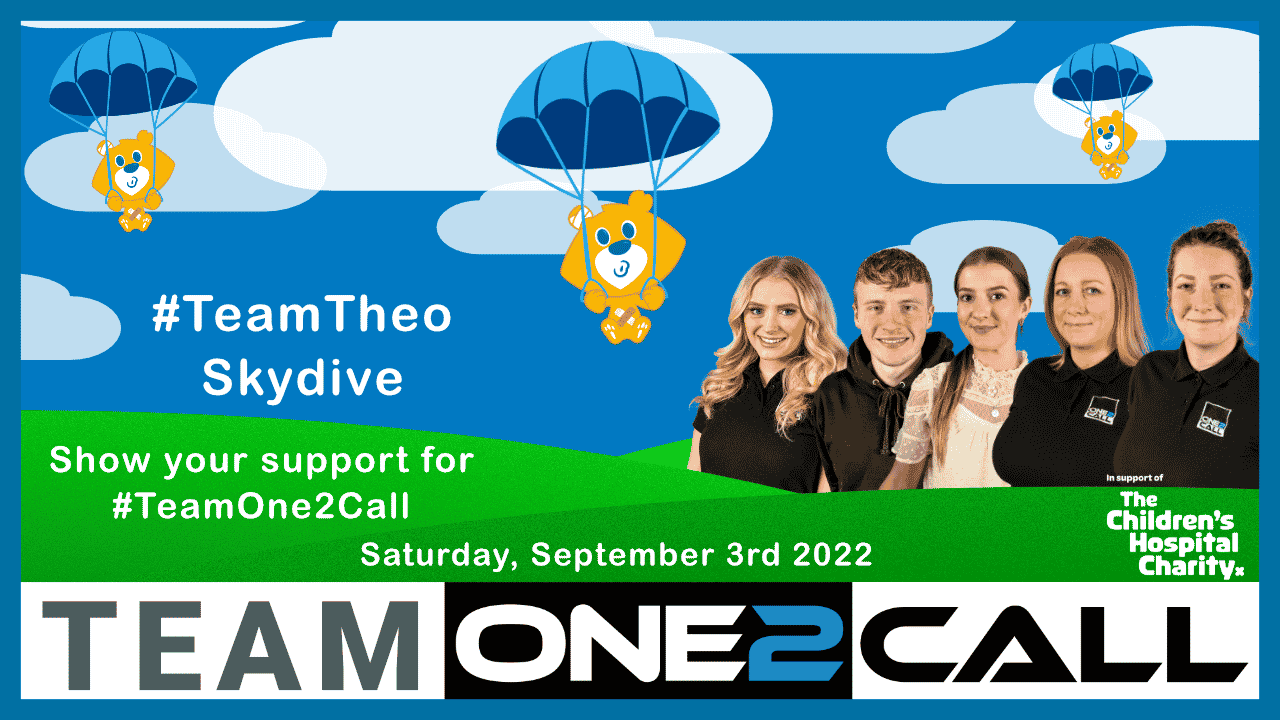 15,000ft Harnessed Tandem Skydive [Sept 3rd, 22]
On September 3rd 2022; Becky, Jordan H, Jordan W, Niamh & Steph will be taking on the daring 15,000ft Harnessed Tandem Skydive.
Each member of Team One2Call will be haressed to the front of a fully qualified instructor. From this height, they will enjoy one whole adrenaline-fuelled minute of freefall, reaching speeds of 120mph. 
Our Group Fundraising Goal is £2,000 for The Children's Hospital Charity.
Yorkshire Three Peaks Challenge [Completed]
On July 2nd, Nick, Paul & Dave took part in The Children's Hospital Charity Yorkshire Three Peaks Challenge.
The challenge involved walking Yorkshire's Three Peaks, Pen-y-ghent (694m/2,276 ft), Whernside (736m/2,415 ft) and Ingleborough (723m/2,372 ft) all in one circular route starting and ending in Horton-in-Ribblesdale.
The challenge covered 25 miles, with the aim to complete the trek in 12 hours, Team One2Call finished in just over 10 hours 30 minutes.
Round Sheffield Run [Completed]
On June 25th, our Project Delivery Manager Simon took part in the Round Sheffield Run.
The challenge running a total route distance of 24.5km, with 11 timed stages, and a 600m total vertical elevation throughout the run, through Sheffield's nicest parkland and green spaces.
Simon completed the run in 1 hour 31 minutes and 7 seconds.
Theo Cup Football Tournament [Completed]
On April 3rd 2022, Dan, Jack P, Jack R, Haydn, Brandon & Jordan took part in the Theo Cup Charity Football Tournament, hosted by The Children's Hospital Charity.
Team One2Call put on a brilliant effort on the day with many goals scored and winning our group stage. Unfortunatly we were knocked out of the tournament in the kockout stages.
However, we all had a brilliant time raising money for such a brillliant cause.
Our fantastic customers include:
Julia Wallace-Ross, Cornerstones Education
So grateful for Jordan coming out so quickly and helping me out.
Sarah Wroe, Commercial Property Partners
Stayed late on a Friday evening to fix my computer. Thank you
Andy Cook, Oak Electrical
The install guys were professional and Knowledgeable. The transition from the old phone system to the new one was seamless.
Woody World
Alex & Jordan provided the usual exceptional service that One2Call have always provided. Thanks, one and all.
Steve Garbett, Jaxson Wolf
Very helpful, good staff. they do what they say they can do and on time. they also go the extra mile for the customer which is very refreshing.
Adact Medical
You would think after using One2Call for over a decade I could have found a better Service Provider.