Modernise the way you control your building security through unique biological traits.
Encourage simpler, securer method of building access abd safety.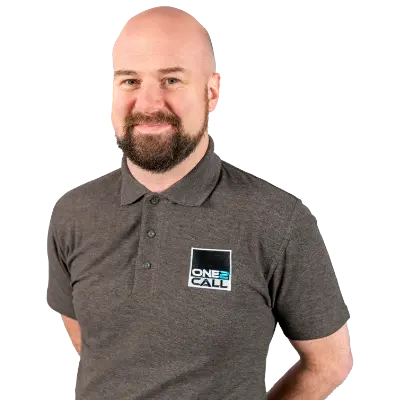 More accurate identification for stronger security.
Biometric security refers to the use of unique biological traits as a means of identification. Fingerprint and facial recognition are most commonly used in physical security systems, but biometric signifiers could include eyes, speech or even DNA.
The advantage of biometrics in security is that every human has many biological traits that make them unique. This makes confirming identity – a critical part of any security system – much more accurate. It also allows you to move beyond relying on passcodes that can be traded or physical tokens that can be lost or stolen.
Building your CCTV and access control systems around biometric security brings many advantages. A biometric-enabled CCTV system allows you to search for footage based on physical characteristics or by uploading a photograph, saving hours trawling through footage. Facial or fingerprint detection can be used to control access to both physical and virtual environments, from secure rooms and dangerous machinery to servers and databases. Biometric technology can even be used in the fight against COVID-19 through automated density control and fever detection solutions.
Read on to learn more about using Biometric Security in your business or get in touch to speak to one of our expert consultants.
Speak to us about your
Biometric Security requirements.
Our facial recognition technology uses machine learning and artificial intelligence technology to enable an incredible level of accuracy even with partial records. Such is the speed and accuracy that it opens up new ways to improve efficiency and keep your business safe.
Access Control and Physical 2FA
In physical security systems Identity is confirmed by reference to the following factors: 
Something the user has, such as a key fob or card.

 

Something the user knows, like a password or PIN.

 

Something the user is; which refers to biometric characteristics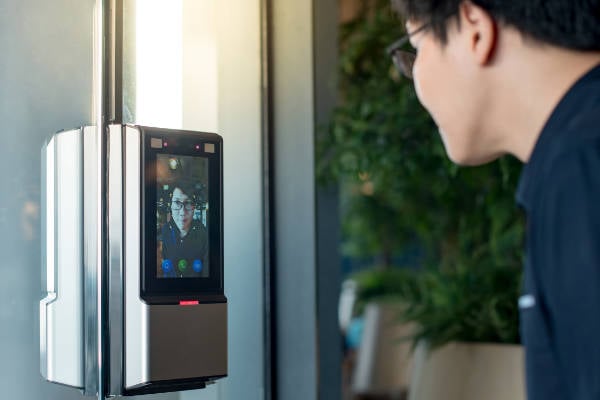 In single factor systems biometric factors like facial recognition offer a much more reliable method of authentication. Unlike key fobs or passwords faces and fingerprints can't be easily transferred to another person. The system can't be gamed with a printed image because our facial recognition terminals use twin cameras to build a 3D image.  
Facial recognition can also be used to enable strong two-factor authentication (2FA) for even stronger physical premises security. Our multifactor entry terminals can be built to your specification with a keypad, fob or card scanner working in tandem with a facial or fingerprint recognition. The correct PIN, fob or card needs to be matched to the correct face or fingerprint for access to be allowed. 
Crime Prevention
Facial recognition can be used to automatically track or alert when known offenders are on site. Visual search means all video the suspects have appeared on can be found in seconds. This saves time and provides the police with a more complete evidence set. 
Facial blurring technology keeps identities safe, with the suspect only being unblurred immediately before footage is passed to the authorities. 
VIP Recognition
Give priority access to VIPs without the need for conspicuous lanyard passes. 
Create time-limited offers that require a customer's physical presence to be redeemed.
Build more intelligent marketing incentives and loyalty programs by automatically alerting staff when your VIP customers are on site. 
Time & Attendance
Time sheets and roll calls are completed automatically as employees pass strategically placed facial detection cameras.
No more lost cards, no fudged figures and in the case of fire a fully up-to-date roll call is ready and available. 
Touch-free Access Control
Recent events have made us all aware of the way illness can be spread quickly through a business by common touchpoints. Whether you run a sterile environment or simply wish to reduce the business impact of easy-to-spread illnesses, our touch-free access control technology can help.
Facial Recognition Entry Terminals
Although fob and card based proximity readers are supposed to be touch-free terminals, it's all too easy and tempting for users to simply press the token against the reader. Swapping to biometric facial recognition access terminals removes this risk entirely.
Our facial recogntion terminals come in a huge range of form factors, from turnstiles and metal-detectors to discreet wall-mounted terminals the size of a smartphone. Advanced AI-powered recongition technology means identity can be confirmed in under 0.2 seconds. Special low-light technology enables deployment in even the darkest doorway.
A typical touch-free entrance deployment might include:
Facial recognition camera mounted above the door
Linked access control software
Connected maglock
Powered door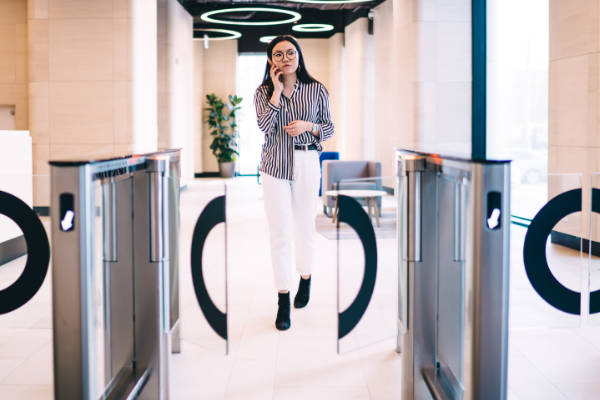 As the user walks towards the door, identity is confirmed, triggering the door to unlock and open itself. While the door is open the camera continues to monitor identity to stop unauthorised users sneaking in behind authorised users. If several authorised users approach at once the door can stay open to allow all through.
For increased security a camera with both facial recognition and fever detection technology can be specified to monitor for potentially infected personnel at the same time as confirming identity.
Of course, cameras can also fulfil their usual role, providing visual security monitoring of entrance and exit areas for added protection.
Example: Standalone Single Door Camera System
This standalone single door solution is ideal for a small shop or showroom.
Features:
Basic numeric data shows number of people in premises

 

Real

–

time alert and voice prompt from camera when threshold is reached

 
Solution Components:  
Dual

–

Lens People Counting Camera

 

Owner-side monitor (eg small LCD/LED TV)

 

Customer-facing Digital Signage (eg large LED TV)

 

Optional Network Video Recorder (where recording required)

 

Power and 

video output cables

 
This is a cost-effective and easy to deploy solution for small businesses. The people counting camera is a self-contained unit, storing data locally and sending scheduled reports on a daily, weekly, monthly or annual basis. Monitor outputs are sent directly from the camera and your logo can even be added to the output image. The customer-facing feed shows live data indicating in green when entrance is allowed and in red when it is not, accompanied by voice prompts.  
Add the optional NVR for capture and storage of video outputs or integrate with electronic access control to prevent entrance when the overcrowding limit is reached. 
For larger deployments multiple cameras can be networked together and controlled centrally to give a single density control solution for the entire premises. 
Biological indicators aren't just used to confirm idenity. Our specifalist range of human fever screening cameras use thermal imaging technology so accurate that it can detect the human body temperature to an accuracy of up to ±0.3°C. Such precise technology opens up the possibility of using thermographic cameras for preliminary temperature screening as people enter your business premises to detect the elevatred skin-surface temperature often indicative of the early stages of a fever. 
Human fever screening can be deployed using much of your existing CCTV infrastructure, and the thermographic cameras used can continue to act as security cameras whilst monitoring for potential fevers simultaneously. They also won't slow up your employees as they enter the building due to super-speedy detection times and the ability to scan several people at once.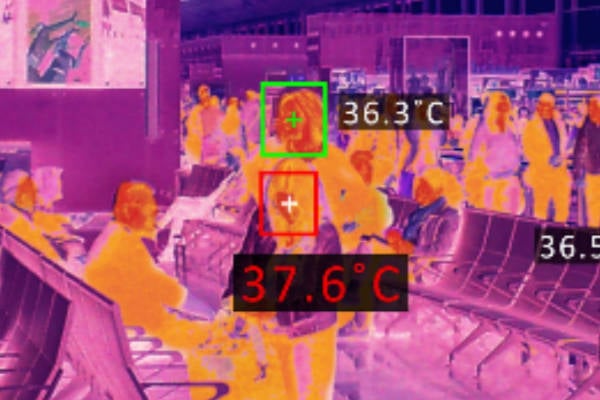 Key features include:
One second detection

 

Multi-person simultaneous detection

 

Touch-free monitoring, avoiding further exposure

 

Alerts triggered immediately

 

Hand-held cameras available for mobile use

 

Standard cameras accurate to ±0.5°C

 

Add black body calibrator for accuracy of up to ±0.3°C

 

Advanced AI algorithms used to reduce false alarms from other heat sources

 
One second detection
Multi-person simultaneous detection
Touch-free monitoring, avoiding further exposure
Alerts triggered immediately
Hand-held cameras available for mobile use
Standard cameras accurate to ±0.5°C
Add black body calibrator for accuracy of up to ±0.3°C
Advanced AI algorithms used to reduce false alarms from other heat sources
Example: Fixed Single Camera 
Features: 
Touch-free temperature screening

 

One second per person detection

 

Accuracy of up to 0.3°C (with black body calibrator)

 

Easy to install and configure

 

Can be easily moved between locations

 

Wifi enabled for cable-free connection

 

Face mask detection also available

 

Can also be used for touch-free door access

 
Solution Components: 
Temperature Screening bullet/turret camera.

 

Blackbody Calibrator (Optional)

 

Network Video Recorder (NVR)

 

PC with management software (optional)

 

Tripod & tripod adapter (for black body setup)

 

POE switch for power

 

Monitor

 
The black body calibrator and tripods are not necessary in every application, but where extreme accuracy is preferred, these elements are recommended. In a standard deployment the camera can be mounted anywhere (wall, ceiling, tripod). 
Fever detection cameras are available in many body types, from compact access control panels to integrated metal detectors.  Multiple cameras can be used and networked together for an all-in-one solution covering the whole business. 
Claire H, MSP PLC
Made a call into day, to arrange an engineer visit and was able to get there before 12noon and solve the issue.
Rebecca, Straaltechniek
Pawel is great and very helpful!
Dawn Brown, V & P Solutions
Fast, efficient service – problem was quickly resolved.