Detecting viruses at the door to stop the rapid spread of illness throughout your business. 
Improving the negative impact of employee downtime on your business.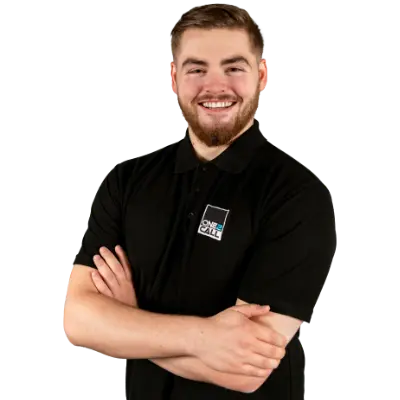 Stop viruses at the door with a fever screening camera system.
Prevent damaging downtime and lost labour from viruses of all kinds using fast, accurate and touch-free fever screening terminals. 
From COVID-19 to seasonal flu, we've all become acutely aware of the damage that can be done by contagious viruses once they enter the workforce. Which is why it's important for businesses to do all they can to detect and prevent the spread of viruses. 
However, it's also important not to build delays and inconvenience into the working day with an overly cumbersome monitoring process. 
That's where advanced thermal imaging cameras can help. 
Fast and accurate detection of raised body temperature can be your early warning signal, allowing you to act to stop viruses from spreading. 
Speak with us about your Thermographic Temperature Screening requirements.
How do fever screening cameras work?
Thermal imaging cameras have long been used to monitor temperature at a distance. Common uses include monitoring equipment prone to overheating, acting as a fire early warning system or even detecting smoking in smoke-free areas. 
As the technology has progressed the accuracy of thermal imaging (or thermographic) cameras has improved greatly. To such an extent, in fact, that our modern thermographic cameras can be calibrated to accuracy of ±0.3°C. 
Such cameras are now accurate enough to detect the small elevation in skin temperature associated with a fever. 
Thermographic cameras can also monitor people as they pass in less than a second, making bulk detection fast and convenient. 
Key features include: 
Non-

contact

 temperature 

screening

 

Detection takes 1 second.

 

Detect several people simultaneously.

 

Standard accuracy of ±0.5°C

 (

±0.3°C with additional calibration

)

.

 

Face mask detection

 

Trigger alerts and actions based on scan results.

 

Standalone or integrated with CCTV or Door Access solutions

 
How can I use fever screening cameras to prevent virus spread?
A wide range of cameras, terminals and integrations available.
We advise speaking to one of our consultants for an idea of how best to apply fever screening technology to your business. 
However, through our experience in successfully deploying and managing human body detection systems, we recommend the following as a reliable setup.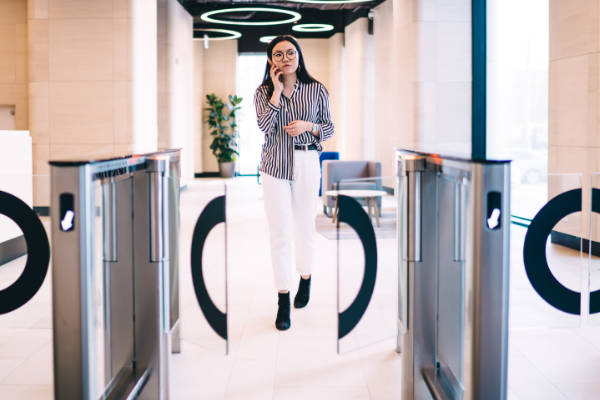 1: Location.
Choose an "airlock" entrance
If you currently have several employee entrances, you will either need to locate cameras at every entrance or choose just one and prevent the other entrances from being used. 
Because of the speed of detection of the thermographic technology, using a single entrance may be preferable as it allows for greater control. 
If you're choosing from several options, the best entrances to use are ones where an "airlock" system can be set up.
This means an area with a single entrance and exit. Employees will be allowed in the first entrance and scanned in the controlled environment inside. They will then only be allowed through the second door and into the premises if they pass the test (via a linked automatic door lock).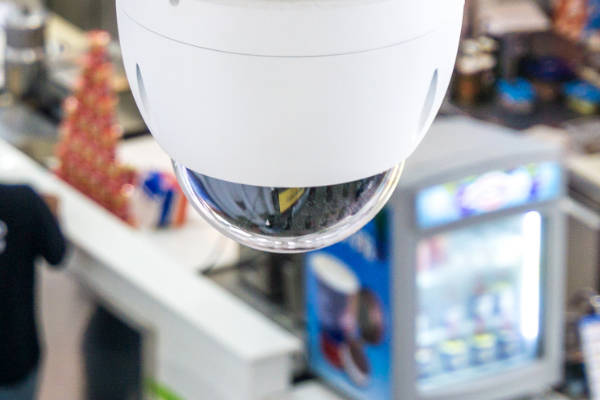 2: Detection.
Use a secondary detection method.
Even when a raised temperature is detected it is good practice to use a second temperature measurement method to confirm the diagnosis.
We recommend using a bullet camera or door entry panel with integrated thermographic camera for a fast initial scan. This would effectively be looking for people outside of normal parameters. When someone fails the initial scan, they would then be moved aside (to allow the flow of employees into the building to continue) and tested again using a secondary method. 
For the second scan a different detection method should be used, digital in-ear thermometer or preferably a non-contact, hand-held infrared thermometer. This will provide a second data point from a different device which will enable you to confirm the original result.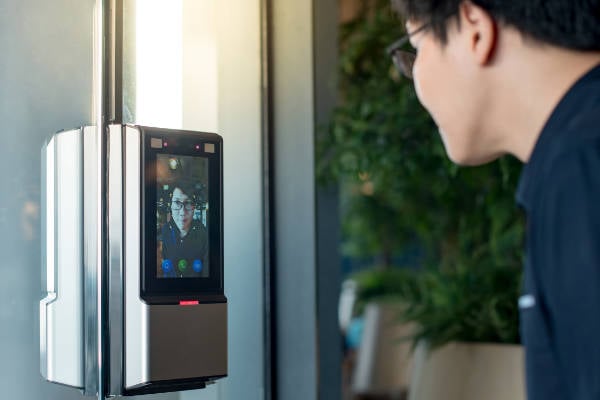 3: Response.
Automated access control
Whilst thermographic cameras can be used separately, for an effective automated screening process they should be integrated into a building access control system. 
Not only is this required to enable the "airlock" system to work, it brings benefits once a positive test is confirmed. 
Depending on your desired approach, as soon as an individual is confirmed positive you could: 
Prevent them from entering any work premises.

 

Restrict them only to areas where they can work in isolation.

 

Restrict them only to areas where you are confident your social distancing policies can prevent infection.

 

Restrict access until a second "all clear" test has been detected.

 
What devices do I need for a fever screening camera system? 
As a fully independent solutions provider we can help you build your system however you need it to work. In general, though, you will need at least one detection device, and depending on your desired features, a Networked Video Recorder (NVR) running specialist software.
See the summary of Fever Screening devices below.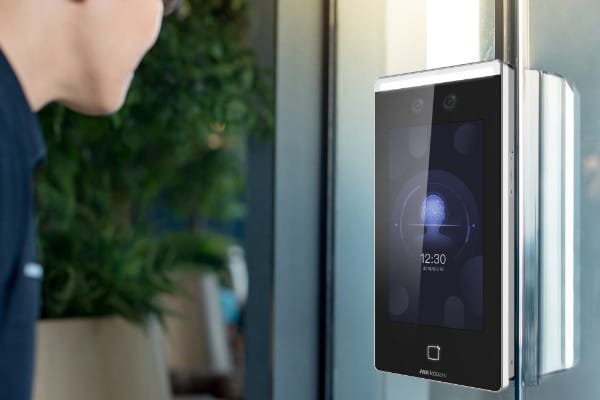 Contactless

 access control

 

Thermographic camera built-in

 

Real-time temperature display

 

Face mask detection

 

Optional floor stand.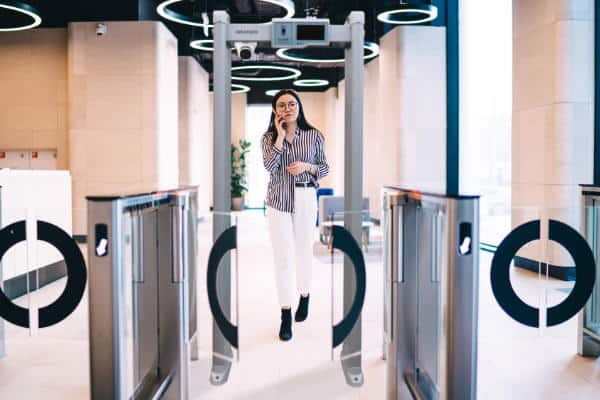 Ideal for secure main entrances.

 

Combined metal detection and skin temperature measurement

 

Includes live display of skin surface temperature.

 

Light & audio alarm built in.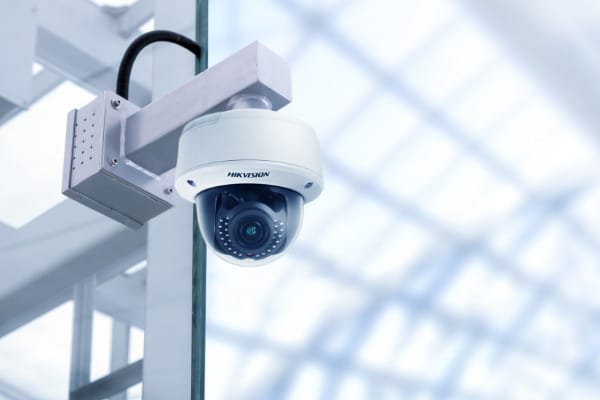 Fixed Camera 
Turret/bullet body style

 

Ideal for entrances, lobbies & hallways

 

Measure many people without contact

 

Standalone accuracy of ±0.5°C

 

Install easily on existing Ethernet cabling

 

Tripod accessory available.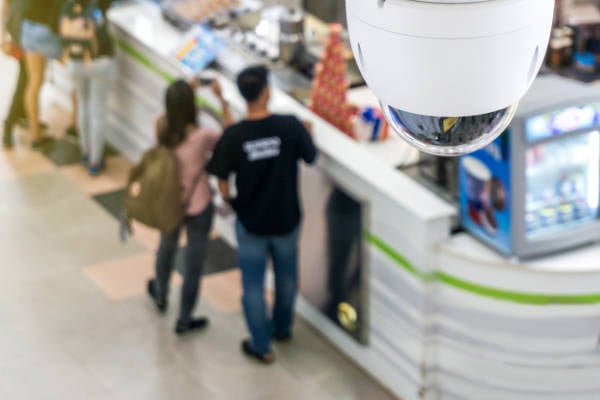 Blackbody Calibrator 
For use with Fixed Cameras

 

Enables accuracy of up to ±0.3°C

 

Provides additional calibration.

 

Reduces environmental interference.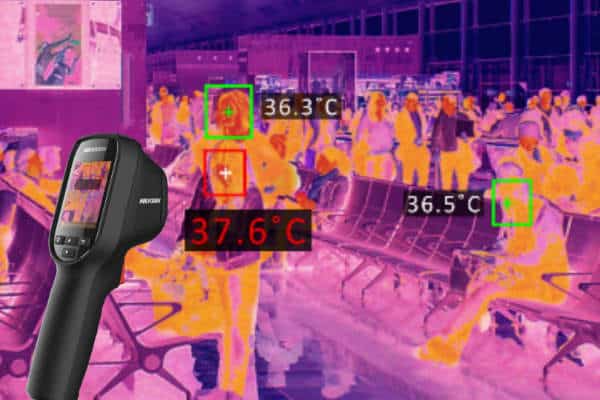 Ideal for mobile use

 

Move quickly between areas.

 

Cable free, 

WiFi

 connected.

 

Measure without physical contact.

 

Tripod accessory available.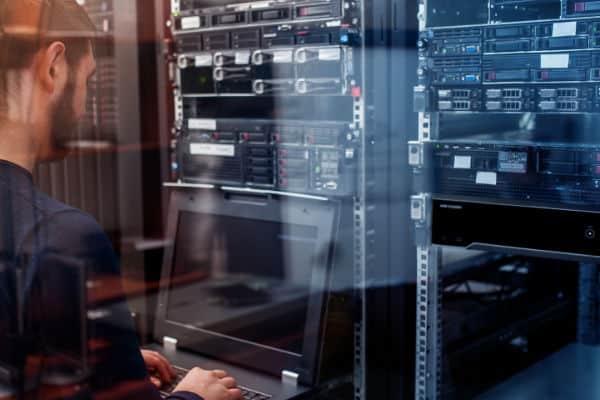 Network Video Recorder (NVR) 
Records video in volume

 

East-to-use admin dashboard.

 

Hosts advance detection 

software

 

Feeds 

AI

 software

 to improve accuracy 

and reduce false alarms

.

 
Getting started with a fever screening camera system. 
The great thing about our fever screening solutions is that they can be as simple or as complex as you need them to be.   
If you want a cost-effective way to give it a try then a single handheld camera is a great way to start. It's built on the same technology as the larger cameras and is portable, meaning you can try it in a number of locations. 
However, without the additional software and integrations you won't get a full appreciation of what these systems can really achieve. 
That's why we recommend you arrange to speak to one of our physical security experts. A quick chat about your requirements and locations is usually all that's needed to give advice on your setup and arrange a live demo or even system trial. 
Andy Cook, Oak Electrical
The install guys were professional and Knowledgeable. The transition from the old phone system to the new one was seamless.
The Willows School
What do we like – always polite, they always keep you in the loop, always professional over the phone and In person. great company.
Julia Wallace-Ross, Cornerstones Education
So grateful for Jordan coming out so quickly and helping me out.