3CX v18: Management Console new features and changes.
We compare the 3CX v16 and 3CX v18 admin consoles to see what's changed.
3CX business communication platform is currently on major release 16 which has been around – with updates- since March 2019.
A lot has happened since then, so it's no surprise that the 3CX development team have been busy readying the next major release –  version 18 – since late 2020. Don't worry, you haven't missed anything. There wasn't a version 17, for some reason.
The first preview of version 18 was released in December 2020 with a number of Alpha and Beta versions since then. At the time of writing we're late into Beta testing and the launch of 3CX v18 is imminent, so we thought it was time to take at the changes, new features and improvements that have been previewed so far.
In this article (and the accompanying video below) we're going to look at what changes have been made to the 3CX management console.
Cleaner and more focused side menu.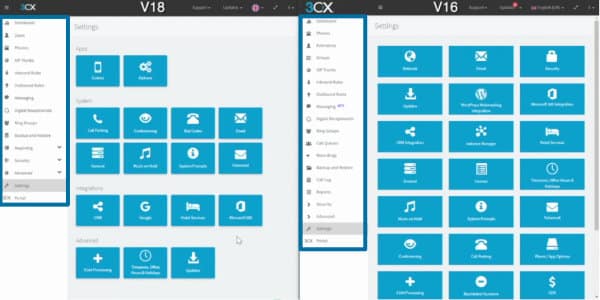 In the image above you can see the new v18 Management Console interface and the v16 console alongside it.
As you can see, there's nothing radical here, but straight away you can see fewer options down the left-hand menu.
That's because the focus of this update seems to be on tidying up that left-hand menu bar, and the Settings screen, both of which were starting to get cluttered.
As 3CX has grown both in complexity and the richness of its feature set, options have been added and added, often with no logical home initially.  A lot of this v18 redesign is focused on decluttering all these options, placing them more logically within sub-menus, and also creating room for even more features to come in future!
Let's take a look at some specific examples.
"Extensions" become "Users".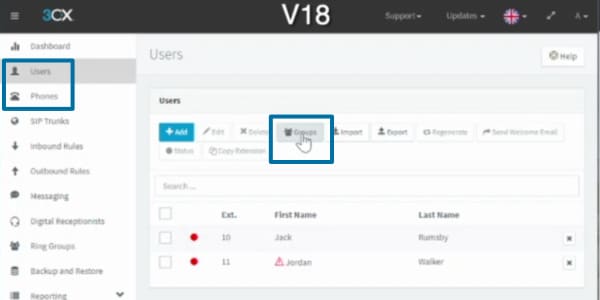 Starting at the top, Phones & Extensions is now Users & Phones. Not a huge change but reflective of the fact that with Live Chat and Video Conferencing, 3CX is no longer just about phone calls.
In some ways, this is because 3CX was built from the off with softphone users in mind (softphone simply means any way of enabling calling via general-use devices like smartphones). By being vendor-agnostic when it came to devices like desktop handsets and conference phone, the setup of the User (the person using the extension) and Device (whether softphone or handset) has always been separate.
This may have seemed like an unnecessary extra step in the past, but with more people use the 3CX chat and messaging features, and greater Teams integration available in 3CX v18, it makes more and more sense as the versions progress.
As you can also see, the Groups option, used for creating user groups within the system (such as departments, skill area or locations) has moved inside Users. This makes logical sense since Groups are made up of users anyway.
Messaging now out of beta.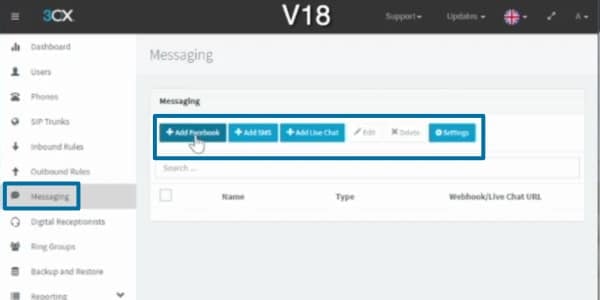 This time around there are no changes to the SIP Trunks, Inbound Rules and Outbound Rules sections, but from v18 onwards the new Messaging section will be out of Beta and become a permanent feature of the Management Console.
This Messaging section brings together the Facebook Messenger and SMS integrations and the 3CX Live Chat functions, all of which are fantastic features if you've not tried them out yet.
Messaging will now also have a Settings option which currently just allows you to set the auto-close time for active chats, but I'm sure this will expand as more features are added.
Learn more about 3CX Live Chat here: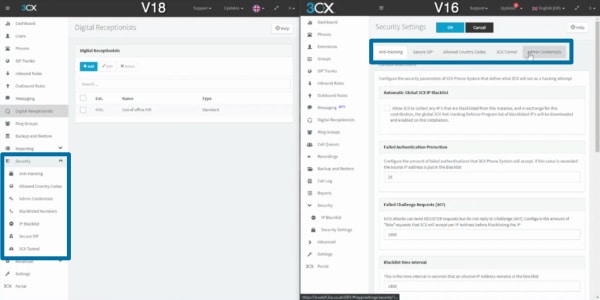 Next up are some areas that are being shuffled around, rather than being new options.
Reports has been renamed Reporting and is now a concertina menu with more options included, such as Call Logs and CDRs. This makes sense since both Call Logs and CDRs (which are used in call costs and billing) are likely to be used more widely within the business as data sources, not just by system admins.
Next, Security is not a new concertina but does have a new icon and contains many more options, as you can see from the image above. Options like anti-hacking and Secure SIP used to be tabs across the top which were accessed via Security and then Security options. Having them here on the secondary menu is a much tidier layout.
IP Blacklist remains where it was, and they've also brought in Blacklisted Numbers, which moves from the Settings section, making it much easier to find.
The Advanced concertina remains, but is now thankfully in alphabetical order! It's lost some items to the other menus and gained Fax Server, which used to be in Settings.
A cure for settings blindness!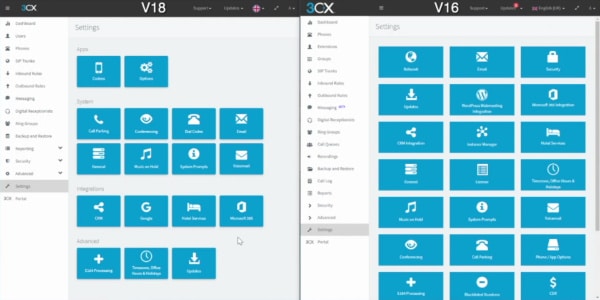 Finally, let's look at Settings.
3CX admins will be used to "settings blindness", whereby you can't find the option you need even though you know it's in there somewhere!
That's been cured on v18 by moving items to more logical positions on the left hand side, and adding category headers.
It's a small act that will make a big difference.
Evolution not revolution.
And that seems to be it in terms of the visual redesign of the Management Console.
Nothing radical, just simple and sensible changes that will make the Admin's life easier.
The Web Client redesign, which you can read about here, is much more radical.
Use 3CX in your business
3CX powers businesses of all shapes and sizes, and One2Call supports those businesses.
From full-service managed service to setup and handover, as 3CX Gold Partners and communications specialists, we're the ones to call to get the power of 3CX working for your business.
Speak to one of our 3CX consultants:
Kevin Wood, IT Consultant
The service from Jack has been 110% throughout in line with the excellent service I've received since discovering One2Call. Thanks Jack and all.
Mark Hamilton, Gooding Group
Good communicative engineer worked away discreetly and kept me informed of progress.
The Willows School
What do we like – always polite, they always keep you in the loop, always professional over the phone and In person. great company.