Is your Internet Slow or is your Wireless Signal Poor?
Quite often we have businesses say they have slow broadband, but when we test they have far faster speeds than they get on their devices.
In many of these instances we find that businesses may be using a wireless solution that is not aiquate for their requirements.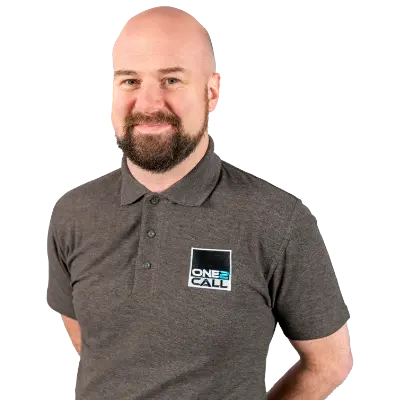 Is your Broadband at Fault or is your Wireless at fault?
One way or another there may be a probelm, but it may not be what you expect.
We have businesses come to us with a wide range of tech related issues from IT Support to Telecoms, from Cyber Security to CCTV, from Access Control to Broadband Services and much more besides.
One of the more common tech related issues we encounter from businesses is "My Internet is Slow". In many instances this could be correct and we can work with businesses to upgrade their Business Broadband so that they are receiving the best possible service for their requirements at the best price.
However, in some instances we assess a businesses current service and find that they are receiving far better service than what they are getting on their devices. In these instances our assessments usually determine that they are experiencing issues either on their Physical Network or that their Wireless Network is not fit for purpose.
When it comes to issues on a physical network we can usually explain this much easier as we can show you where the fault may be. However, when the issue is your Wireless Network, how can we show you something that exists in the air?
Below we have produced some very simple digrams that will hopefully show you how a Wireless Signal can degrade over distance. Do note: These images are only for display purposes and may not accuratly represent the signal coverage you receive in your space.
Depending on the age, specification and even working envirement, you may experience a better or worse exprience compared to our representations. Our team of network experts can produce accurate wireless access point recommendations based on your business requirements and floor plans.
Please do consider that this is only part of the assessment that our team of network experts will do, they will also explore if the issue is in relation to wireless configuration, network configuration, router and much more besides. If you would like to find out more about the differences between Wireless and Broadband and the different types of connectivity please visit the below link to find out more.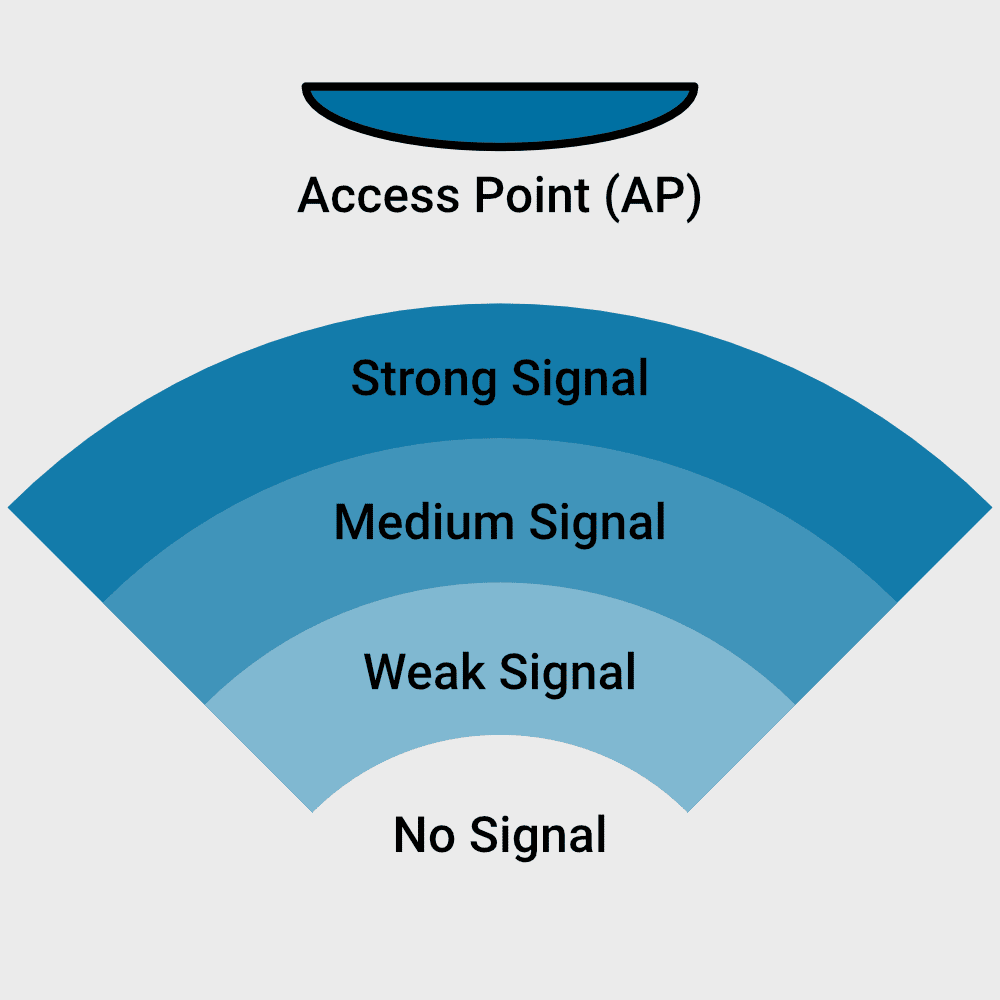 Wireless Signal Degredataion Explained
In the majority of instances people will see their Wireless Signal Represented in Signal Bars where;
3 (or more) Bars – Represents a 'Full' or a Strong Signal
2 Bars – Represents Medium Signal
1 Bar – Represents Weak Signal
0 Bars – Represents No Signal
For the purposes of these examples we will represent;
Access Point – Black Line around Dark Blue
3 Bars/Strong Signal – Dark Blue
2 Bars/Medium Signal – Lighter Blue
1 Bar/Weak Signal – Lightest Blue
0 Bars/No Signal – No Blue
Small Office Space (One Access Point)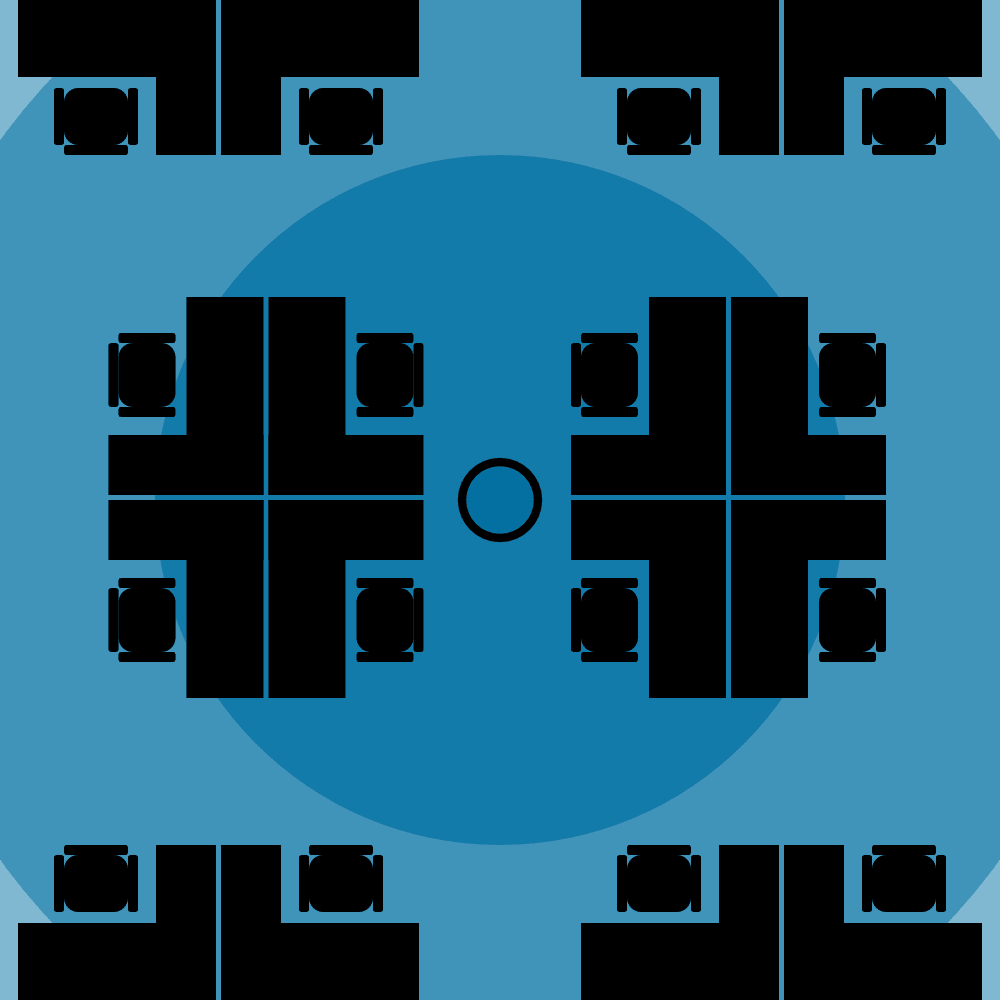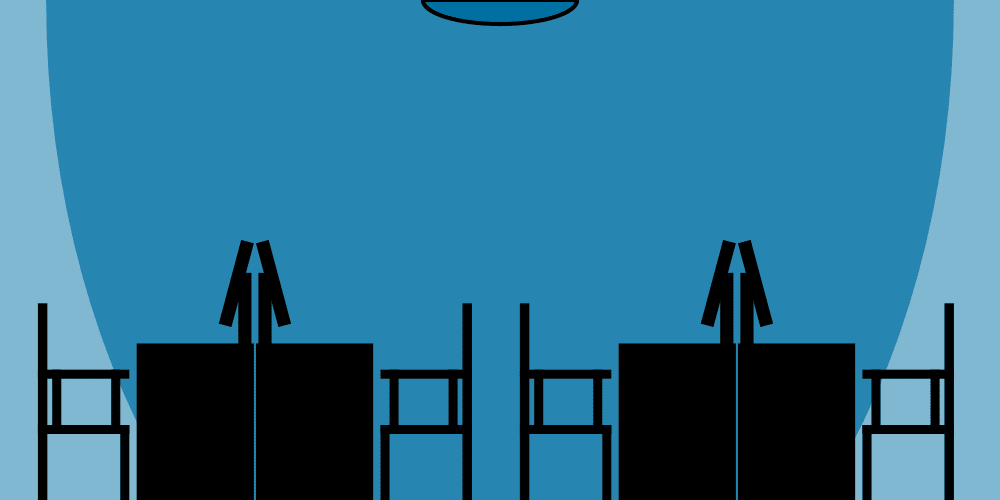 In a Small Office Space, a single central Wireless Access Point is usually more than adequate dependant upon the quantity of people who will be accessing the Access Point and the size of the space.
Due to the low amount of users in a smaller space, the lower quantity of users and by extension the lower quantity of devices using WiFi, you are less likely to experience significant issues. Users towards the outside edges of a smaller space may experience slightly poorer signal than those closest to the access point, however usually this will not be a noticeable degradation to cause significantly slower speeds unless there are a large quantity of users or devices connected and using the same Access Point.
Larger Office Space (One Access Point)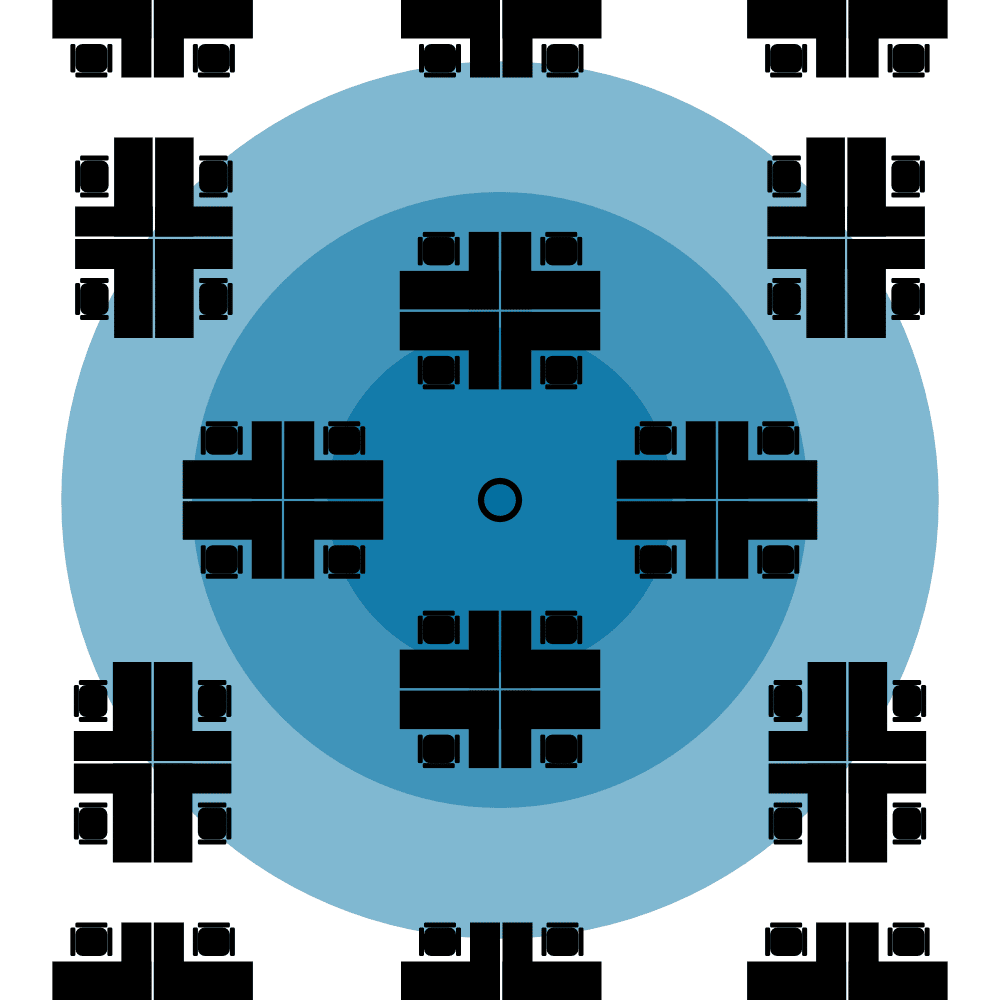 In a Larger Office, with a single central Access Point, you will usually start to experience issues with Wireless Signal Degradation as there is usually more people, spread out over a larger space.
Towards the edges of a Larger Office Space, you may find that signal for those users is much poorer than those closest to the Wireless Access Point. And whilst this diagram shows no internal walls or obstacles, if you are in a larger office space you may have internal dividing walls that could also cause interference and degrade a wireless signal over distance. It is also worth considering that if your office space is separated out over multiple floors, it is always recommended that each floor has its own Access Points. As, whilst wireless signal can penetrate most building floors, signal can be heavily degraded between building floors. Meaning that users on the floor where a Wireless Access Point is not located will experience significantly lower signal compared to the floor where it is located.
In Larger Office Spaces, such as the one depicted in this example, we would usually recommend 2 (or more) Access Points separated at an optimum distance to ensure that all of the space receives coverage.
Large Office Space (Multiple Access Points)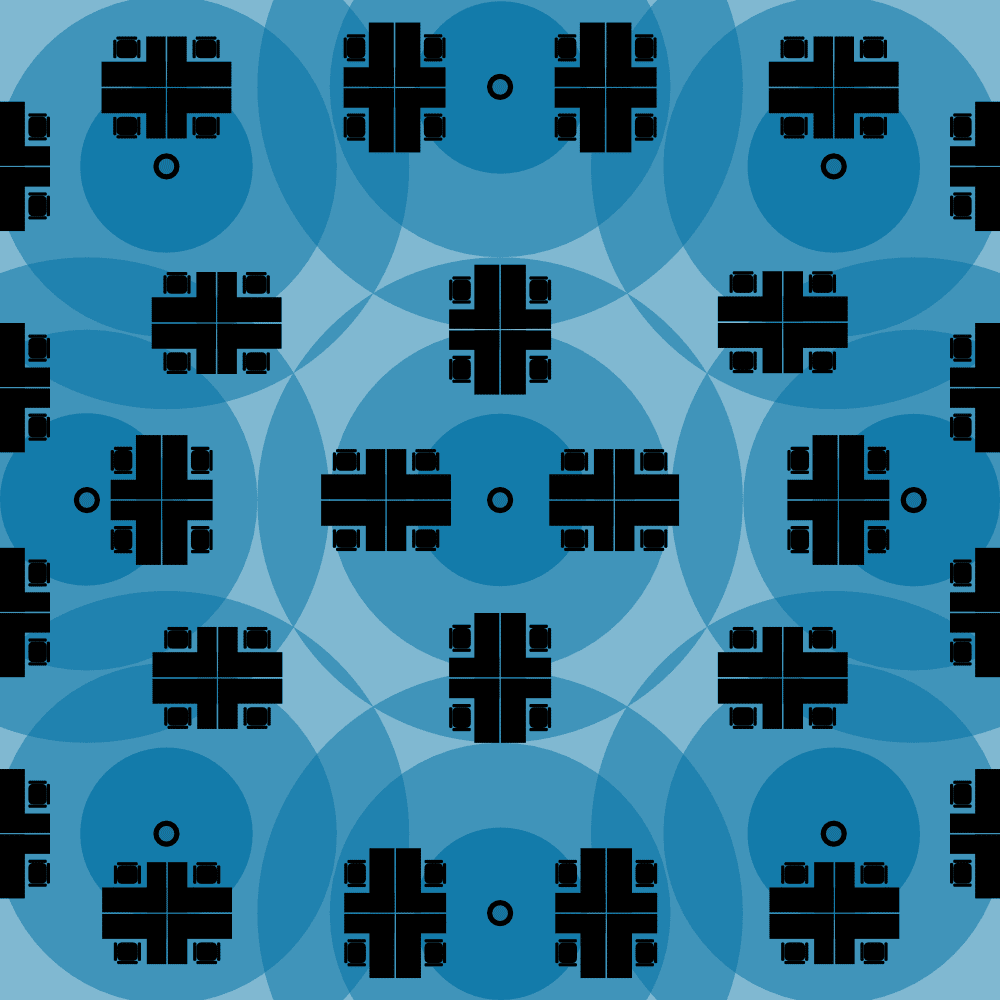 In Very Large Office Spaces, Warehouses, Multi-Floor Offices or even High Density Office Spaces, it is absolutely recommended that your business has Multiple Access Points to cope with the space that is required to be covered and the quantity of users and devices that will be accessing the Wireless Network.
Whilst this example may represent the extreme case of a high density office space, especially when you consider that most large offices will have multiple floors, rooms and dividing walls. It is absolutely necessary that Multiple Access Points are required to be able to service all users in all areas of the space required. And in a warehouse, even the material of dividing walls can be deciding factor in the quantity and position of wireless access points to ensure accurate coverage.
In instances such as these it would be a requirement that our expert network engineers would require floor plans for the building to be able to build an accurate Access Point Distribution Plan to ensure accurate distribution of wireless coverage across all floors across the space required. It may even be required that one of our engineers visit the site to run wireless signal tests to ensure that the signal is accurately distributed over the area required. And for some businesses, this may even include the installation of externally rated access points for wireless coverage outside of their business where required.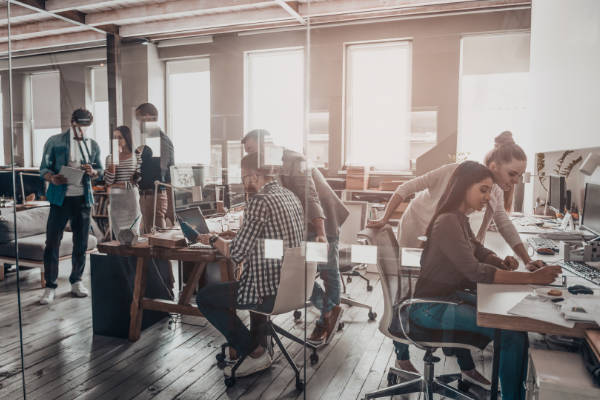 About One2Call
One2Call has worked closely with ITS Faster Britain to build out a fibre network capable to huge speeds of up to 10Gbps (10,000mbps) throughout many of Sheffield's core business and indistrial areas. 
Business thoughout the Sheffield region have had to put up with slower ADSL or marginally faster FTTC (Fibre to the Cabinet) speeds for many years. Thankfully those woes are now at an end as our full-fibre FTTP (Fibre to the Premesis) services become live througout the Sheffield region.
With ultrafast and ultra-reliable connectivity, Sheffield's business community can take advantage of the huge gains in productivity, efficiency and customer communications that cloud-first businesses can achieve. 
And One2Call is there to help them every step of the way. 
Who are One2Call?
We're a Sheffield-based Internet Service Provider and Business Technology Provider, including; IT Support, Telecoms Services, CCTV, Building Security, Wireless and Networking, Cyber Security and much more.
We've been providing business-grade connectivity to UK businesses for more than a decade. We specialise in finding solutions for businesses struggling to get the business-grade connectivity they need.  
Our track record includes: 
Drawing down Government funding of more than £250,000 to help desperate businesses to upgrade their 

connectivity

.

 

Connecting poorly served business parks by building our own local

l

y

 

distributed Wireless Leased Lines.  

 

Early-adopter of EoFTTC technology to plug gaps between FTTC and Leased Line.

 

Developing u

nique bolt-on services 

to make it easier for our customers to adopt cloud-based technologies.

 

Building our Bespoke Leased Line service 

for experienced IT Manager

 to pick and choose the services they need.

 
We are able to create unique solutions for customers because of the depth of in-house knowledge that we possess.  Because we're experienced across connectivity, networking, connectivity, security and cloud services we can anticipate issues other more narrowly focused companies might not and build integrated solutions across the whole business infrastructure. 
Browse this website to learn more about what One2Call can offer you.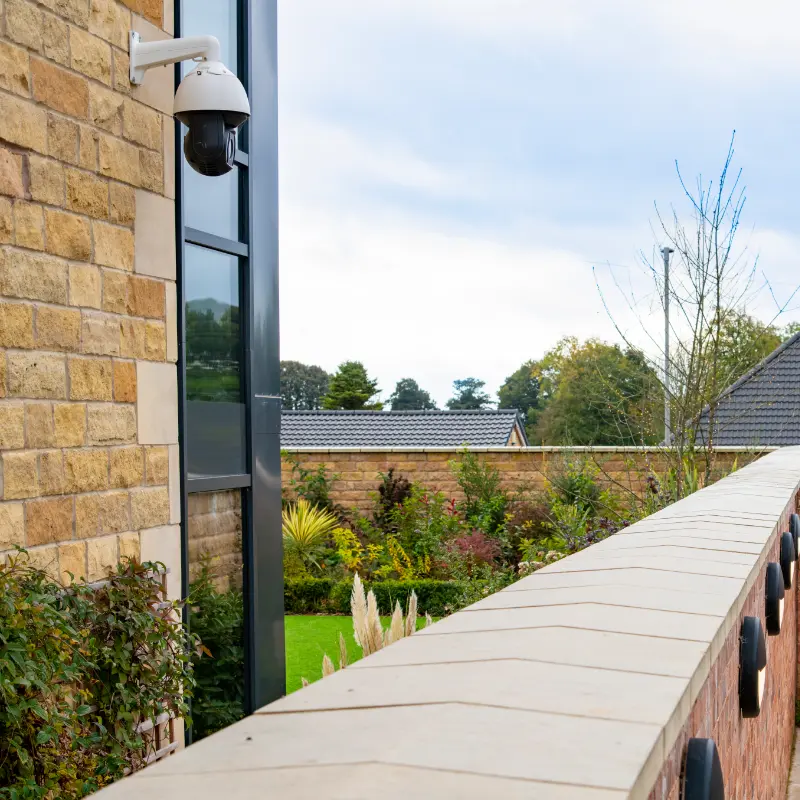 Sheffield Business CCTV Solutions
One2Call Ltd installs and manages business CCTV systems in Sheffield, South Yorkshire and beyond. 
Our headquarters are in south Sheffield, which means we're always nearby for South Yorkshire businesses. Our CCTV engineers are less than 30 minutes from Chesterfield and Rotherham, and less than 45 minutes from Barnsley and Doncaster. 
All our in-house CCTV engineers have experience in installation and maintenance of large and complex sites. They are also up-to-date on the latest CCTV technology such as ANPR, Biometrics, All-IP systems and colour night vision.  
Jeanette Addis, Principle Support Ltd
Very approachable, friendly team and fast response time. Thank you.
Peter, Peak Sensors
Very competent people completing tasks accurately and quickly.
Greystones Medical
Professional people providing a professional service. Fully met our business needs and listened to our requirements. Responsive team and capable engineers.